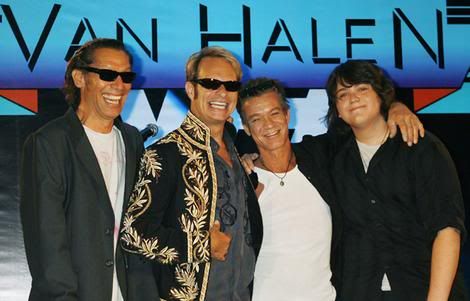 After reuniting with original vocalist David Lee Roth, hard rock band Van Halen will be going into the studio to record their first studio album in 13 years, and the first album with Diamond Dave since
1984
. Roth rejoined the band in 2007 for a tour that included Eddie Van Halen's son, Wolfgang, on bass guitar (pictured above on the far right).
With Roth the band recorded a streak of classic albums in the late 70's-early 80's. Their debut album,
Van Halen
, was a magical miraculous masterpiece of rock and roll with such classic hits as "Jamie's Crying," "You Really Got Me," "Ain't Talkin' 'bout Love," "Runnin' with the Devil" and everyone's favorite guitar instrumental:
I listened to
Van Halen II
for the first time recently, and although it isn't as good as the debut, it's very similar, with plenty of guitar and vocal theatrics. The thing I love about Van Halen is that although they were a hard rock band that used a hell of a lot of distortion, their songs are essentially pop songs, with conventional pop structures and plenty of great hooks and harmonized backing vocals, demonstrated perfectly in songs like "I'm The One."
Source:
http://www.ultimate-guitar.com/news/upcoming_releases/right_now_van_halen_to_record_new_studio_album.html